Radiesse® in Seattle
Injectable dermal facial fillers are safe and natural cosmetic fillers that can restore volume and fullness to the skin.
What is Radiesse®?
Radiesse® is an FDA-approved volumizing and contouring filler that contains calcium hydroxyapatite (CaHA) to stimulate collagen production, a unique anti-aging approach for filler treatments. The new collagen that is produced by the CaHA provides support for your skin to lift and soften wrinkles. Radiesse® filler produces immediate results that look natural and last up to two years.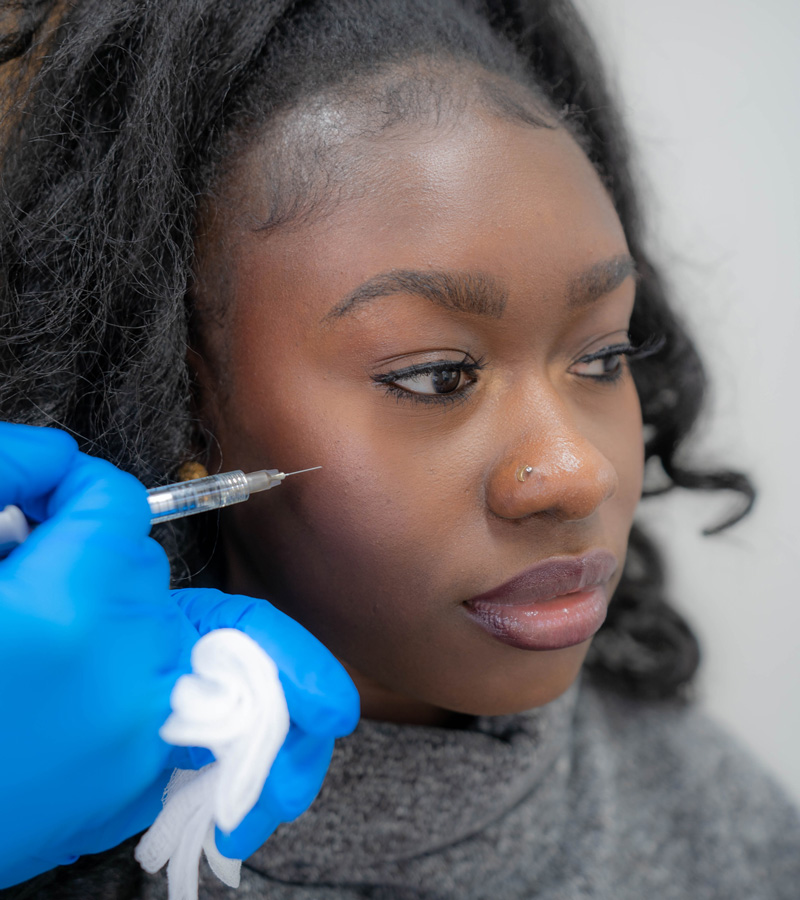 What is Radiesse® Used For?
Radiesse® is a well-known cosmetic injection for wrinkles around your nose and mouth. Not only is it one of the most popular injectables for the face, but it can also be used in other areas, such as the buttocks, jawline, hands, and cheeks.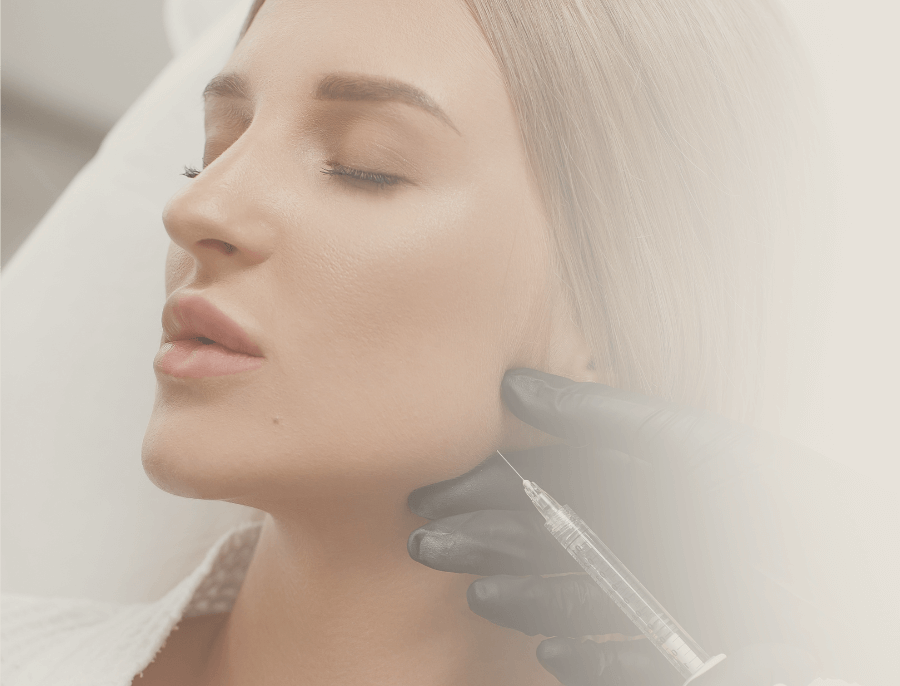 Radiesse® BBL
The CaHA in Radiesse® is an excellent alternative for Brazilian butt lift procedures. You can achieve the same volume and give your buttocks a firmer texture compared to fat grafts.
Radiesse® for the Jawline
Adding volume to your jawline gives men a more chiseled profile, and it also helps with a weak jawline.
Lip Enhancement with Radiesse®
Hyaluronic fillers and fat grafts can be used for lip enhancement, but Radiesse® in your lips has some unique advantages.
Radiesse® for Aging Hands
Radiesse® is one of the few dermal fillers for the hands. Hand filler that increases collagen levels corrects thinning skin and visible veins.
Chin Augmentation with Radiesse®
Adding collagen with Radiesse® chin injections improves your profile. Chin augmentation with Radiesse® may be combined with injections of the product along the jawline.
Under Eye Treatments with Radiesse®
Radiesse® under your eyes corrects a hollow appearance, reduces dark circles and bags, and softens fine lines.
Radiesse® Cheek Filler
Your mid-face area loses volume as you age. The CaHA in Radiesse® restores volume to give you a more youthful appearance.
Best Candidates for
Radiesse® Filler
The ideal Radiesse® candidate is between 35 and 60 years old, a time when your body starts to lose more collagen than it produces. Facial contouring with Radiesse® for men and women is recommended at any age over 18 years old.
Is Radiesse® Better Than Other Dermal Fillers?
Radiesse® is a long-lasting filler that produces natural results. It uses a substance that stimulates collagen production, whereas many other fillers rely on hyaluronic acid.
Juvéderm® vs. Radiesse®
Radiesse® is one of the more common Juvéderm® alternatives for anti-aging. People who want the results of their dermal fillers to last as long as possible choose Radiesse®. Juvéderm® results tend to last up to 12 to 24 months, and Radiesse® results last up to two years or longer.
Restylane® vs. Radiesse®
Radiesse® is a thicker gel compared to Restylane®, and it may not be ideal for fine lines that can be treated with Restylane® injections. Radiesse® is the better option for deeper creases and folds.
Radiesse® vs. Voluma®
Radiesse® is injected with a thin needle. We do advise people that the injections may produce slightly more pressure and discomfort than hyaluronic acid fillers. Multiple injections are made to carefully sculpt the treatment area and soften wrinkles.
What to Expect During a Radiesse® Treatment
Cheek injections with Radiesse® and Voluma® add volume to the mid-face area, and both are ideal alternatives to silicone implants which are considered permanent cheek fillers. Radiesse® is the better choice if you need a relatively significant amount of volume added to your cheeks.
Radiesse® Aftercare
As with any other type of dermal filler, Radiesse® may produce some short-term symptoms that are localized around the injection sites. This includes swelling, tenderness, and bruising. You may also notice mild bleeding at the injection site. Redness after the filler is also common. Swelling with Radiesse® may last two to three days. When using Radiesse® as a jaw filler, swelling may last up to three to five days.
There is no Radiesse® filler downtime after the treatment, and you can exercise after the filler injections.
Can I Wear Makeup After Filler Injections?
You can wear makeup after your Radiesse® injections. At the end of the day, use a mild cleanser to remove any dirt and makeup from the injection sites to prevent infection.
Does Chin Filler Hurt?
The injections for chin filler with Radiesse® produce a mild amount of pressure and discomfort. You may notice that your chin feels tight and swollen for the first week.
Do Fillers Work Right Away?
Due to the thickness of the Radiesse® gel and the presence of CaHA beads, initial filler results are immediate. Over the first seven to ten days, the beads are dissolved by the body, leaving behind new collagen fibers. Radiesse® results continue to improve over six months.
Radiesse® Side Effects
Side effects from Radiesse® injections are rare. The most common are:
Uneven results
Skin discoloration
Blood under the skin (hematoma) after lip filler with Radiesse®
Acne after filler due to the skin not being properly cleaned
Infection
Lorem ipsum dolor sit amet, consectetur adipiscing elit. Nam laoreet neque a risus lacinia, vel rhoncus arcu malesuada. Aliquam ultricies ex ac ultricies finibus. Morbi iaculis urna ac lorem ultrices rutrum. Ut lacinia augue sit amet ante aliquet, nec vestibulum sapien commodo. Integer at sollicitudin mauris.

What can I expect during and after my treatment?

Lorem ipsum dolor sit amet, consectetur adipiscing elit. Nam laoreet neque a risus lacinia, vel rhoncus arcu malesuada. Aliquam ultricies ex ac ultricies finibus. Morbi iaculis urna ac lorem ultrices rutrum. Ut lacinia augue sit amet ante aliquet, nec vestibulum sapien commodo. Integer at sollicitudin mauris.

Lorem ipsum dolor sit amet, consectetur adipiscing elit. Nam laoreet neque a risus lacinia, vel rhoncus arcu malesuada. Aliquam ultricies ex ac ultricies finibus. Morbi iaculis urna ac lorem ultrices rutrum. Ut lacinia augue sit amet ante aliquet, nec vestibulum sapien commodo. Integer at sollicitudin mauris.

Lorem ipsum dolor sit amet, consectetur adipiscing elit. Nam laoreet neque a risus lacinia, vel rhoncus arcu malesuada. Aliquam ultricies ex ac ultricies finibus. Morbi iaculis urna ac lorem ultrices rutrum. Ut lacinia augue sit amet ante aliquet, nec vestibulum sapien commodo. Integer at sollicitudin mauris.

Lorem ipsum dolor sit amet, consectetur adipiscing elit. Nam laoreet neque a risus lacinia, vel rhoncus arcu malesuada. Aliquam ultricies ex ac ultricies finibus. Morbi iaculis urna ac lorem ultrices rutrum. Ut lacinia augue sit amet ante aliquet, nec vestibulum sapien commodo. Integer at sollicitudin mauris.

Lorem ipsum dolor sit amet, consectetur adipiscing elit. Nam laoreet neque a risus lacinia, vel rhoncus arcu malesuada. Aliquam ultricies ex ac ultricies finibus. Morbi iaculis urna ac lorem ultrices rutrum. Ut lacinia augue sit amet ante aliquet, nec vestibulum sapien commodo. Integer at sollicitudin mauris.

Weak muscles around the injection sites
Tenderness, discomfort, bleeding, and swelling that lasts longer than seven days
Heavy or droopy eyelids
Infection