IPL or Intense Pulsed Light is a diverse laser treatment that allows our patients to reduce their signs of aging, address sun damage, or even permanently reduce unwanted hair growth in their treated areas.
This all-in-one treatment has quickly become a fan-favorite for its minimally invasive process and minimal recovery period.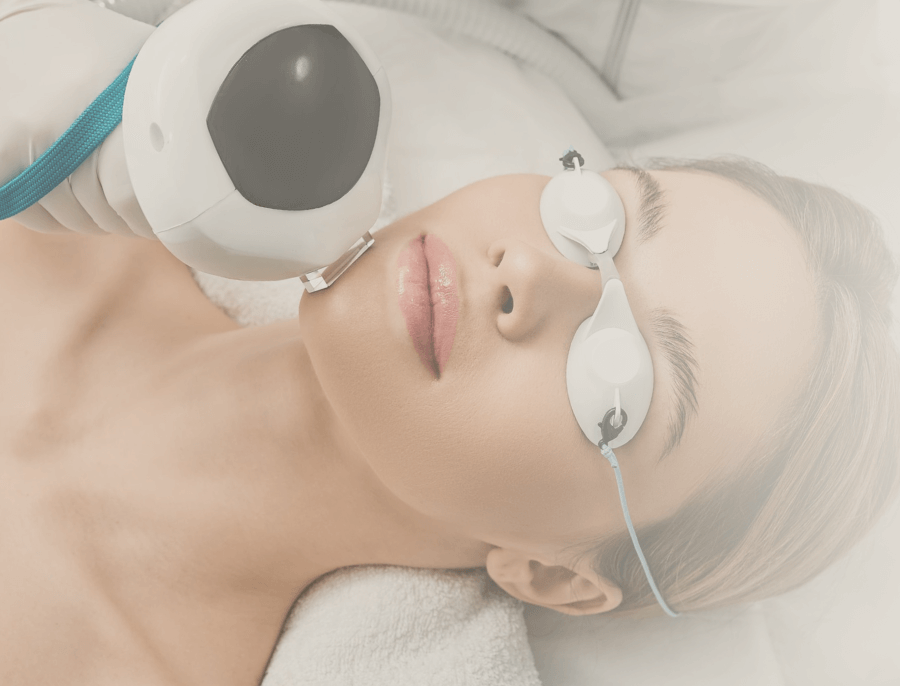 What is IPL?
Intense Pulsed Light therapy or IPL treatments are minimally invasive laser treatments that use quick bursts of light energy to treat a variety of concerns.
What makes IPL treatments different from traditional laser treatments is that they're non-ablative, meaning they can penetrate to the deeper layers of the skin without harming your uppermost layer. The light used to target your problem areas is drawn to intense pigment, making it a great treatment for sun damage, broken blood vessels, dark spots, rosacea, and more.
This pigment-finding light therapy also allows for patients with dark hair and fair skin to target individual hair follicles and permanently reduce hair growth under their arms, on areas of their face, or even in their more intimate areas.
What Does IPL Treat?
IPL therapy is most commonly used to treat:
Sunspots
Age spots
Birth marks
Freckles
Unwanted hair
Rosacea
Varicose veins
How IPL is Performed
Each IPL treatment is performed in one of the private treatment rooms at the La Belle Vie MedSpa. Before your treatment begins, your skin will be cleaned and a topical anesthetic may be applied to your treatment area. We may also provide you with protective glasses to wear throughout your treatment.
Once comfortable, your aesthetics professional will begin applying bursts of IPL laser technology to the surface of your treatment areas. Most patients find this treatment tolerable, with each pulse feeling similar to a rubber band being snapped against the skin. The pulsed light will be applied evenly across the treatment area to ensure the best possible results.
This entire treatment process typically takes less than an hour to complete.
IPL Results
After your IPL treatment, your skin will likely be red and tender similar to the sensation of a sunburn. This is normal and side effects typically resolve on their own within a week or two of treatment. We may recommend wearing medical-grade SPF on your treated areas while your skin heals from your IPL treatment.
While some results will be visible immediately, ultimate results will appear once all swelling and redness subsides, about two weeks following treatment. We may recommend receiving a series of treatments spaced several weeks apart for ultimate results.
Schedule Your Consultation
To learn more about how IPL treatments can benefit you, we encourage you to contact us and schedule your private consultation with one of our aesthetic professionals. We'll be happy to sit down with you, listen to your concerns, and develop a personalized treatment plan to help you get the look you desire.